As Knox County's economic developer, Area Development Foundation uses creative deal-structuring and incentives to reduce risk and encourage business growth.
Please contact us to discuss your specific project and the various ways we can assist you in achieving your goals.
Our economic development team works closely with local, state and federal entities to determine eligibility for incentive programs.
Select Local Financial Incentives
City-Wide CRA  – Mount Vernon
The Ohio Community Reinvestment Area program is an economic development tool administered by municipal and county governments that provides real property tax exemptions for property owners who renovate existing or construct new buildings. Community Reinvestment Areas are areas of land in which property owners can receive tax incentives for investing in real property improvements.
TIF Areas
Tax increment financing, or TIF, subsidizes companies by diverting a portion of their taxes to help finance development in an area or (less frequently) on a project site. Usually, TIF helps to pay for infrastructure improvements (streets, sewers, parking lots) in the area near new development.
Select State & Federal Financial Incentives
JobsOhio
JobsOhio is a private nonprofit corporation designed to drive job creation and new capital investment in Ohio through business attraction, retention, and expansion efforts.
Making a difference is a core value for JobsOhio. Their strategies and programs are designed to improve the lives of Ohioans and strengthen the communities where they live. In partnership with state and local partners, JobsOhio has redefined economic development and epitomizes a model that others are trying to emulate across the country and around the globe.
41 S. High Street, Suite 1500
Columbus, Ohio 43215
Phone: 614-321-1877
Toll-free: 1-866-727-7908
Email: contact@jobsohio.com
Opportunity Zones
Opportunity Zones (OZ) were created in 2017 as part of the Tax Cuts and Jobs Act. OZs are powerful development tools meant to stimulate investment in disinvested areas by offering capital gains tax deferments on qualified investments. The State of Ohio also offers tax deferments for investments in OZs. There is currently one OZ in Knox County. It is located in Mount Vernon and offers several investment opportunities.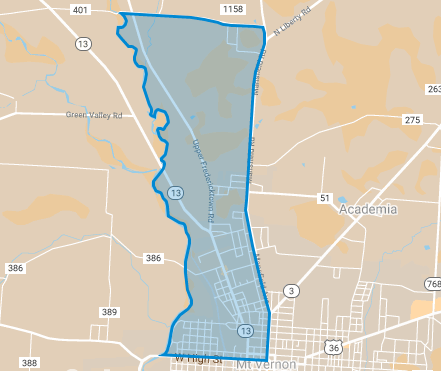 Foreign Trade Zone
Located entirely within Foreign Trade Zone (FTZ) 138, this resource allows companies to import goods into the United States without formal customs entry (depending on final destination). FTZs have grown in popularity resulting in consistently creating and keeping jobs and capital investment in the country. To learn more on how your company could benefit from using FTZ-138, download this informative brochure!
Angie Atwood
Program Manager, FTZ-138
Phone: 614-409-3622
Email: aatwood@columbusairports.com
More Information