Kokosing Gap, Mohican Valley & Heart of Ohio Bike Trails
Knox County boasts almost 35 miles of recreational multi-use trail built on a former Pennsylvania Railroad line with endpoints in Centerburg, Mount Vernon, and Danville, Ohio. Visitors will traverse the Kokosing River railroad bridges, antique covered bridges, forests, wetlands, agriculture, and villages along the way.
http://www.kokosinggaptrail.org/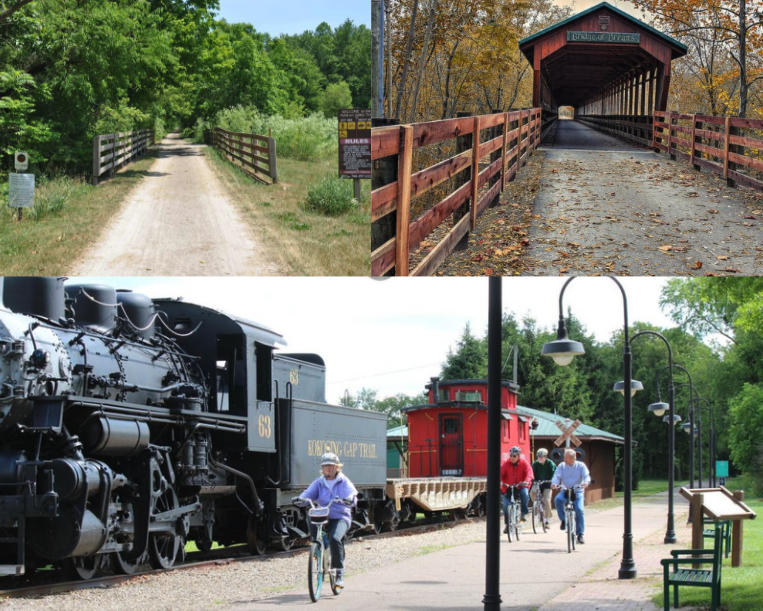 Ariel Foundation Park
Located in Mount Vernon, Ohio, the park is a stunning 250-acre example of adaptive reuse, created on the former site of a glass-making factory. It offers architectural ruins, lakes, an observation tower, walking trails, steel sculptures, a museum, and connections to both the Kokosing Gap Trail and the Heart of Ohio Trail.
Kokosing River
A float down the Kokosing River takes the user back in time. Paddling the upper end of the water trail takes the traveler through areas that were extensively glaciated beginning 100,000 years ago. Between Mount Vernon and Gambier, Knox County residents enjoy fishing, tubing, kayaking, canoeing, and year-round beautiful scenery that has inspired local artists for decades.
https://knoxcountyparks.org/trails/water-trails/kokosing-river-water-trail/
Knox County Park District
Knox County Park District conserves, manages, and maintains over 1,000 acres of land throughout the county including seven natural park areas, several access points along the beautiful Kokosing and Mohican State Scenic Rivers, many access areas on the Heart of Ohio Trail, the Kokosing Gap Trail, and the Mohican Valley Trail and numerous scenic hiking trails. In addition, the Park District offers free educational and recreational opportunities during the year.
Events and Festivals
With multiple communities in Knox County, there are various events and activities celebrating the culture and heritage of the area during all parts of the year. Events include the Fredricktown Tomato festival, Mothers Day in Danville, Ariel Foundation 4th of July, Utica Ice Cream Festival, Christmas in Downtown, and multiple Farmer's Markets, Parades, and First Fridays.
The Mount Vernon Arts Consortium boasts a wide variety of event venues, including the oldest 19th-century opera house in the United States, the Woodward Opera House. Hosting various types of performances throughout the year, there is always a show to see in Knox County!
Knox Chamber of Commerce Calendar