Knox ASPECT - Applications OPEN NOW
Knox ASPECT is designed to prepare students for careers in manufacturing by teaching necessary skills for the industry. The curriculum focuses on a variety of topics ranging from technical skills and safety to soft skills like teamwork, conflict resolution, and interview skills. Students that complete the course have a guaranteed interview with each employer partner.
Past Employer Partners:
Ariel Corporation
Burrows Packaging
Coyne Graphic Finishing
Diemaster
Eagle Engineered Solutions
Jeld Wen
Kokosing
Mauser
Owens Corning
Schafer Driveline
Ver-Mac
ASPECT FALL 2022: September 13th-October 6th
Anyone of working age can participate
Courses will be held at the Knox Ohio Means Jobs Center at: 17604 Coshocton Ave, Mt Vernon, OH 43050
Courses will be every Tuesday and Thursday from 6pm-8:30pm
The Course Schedule has details on dates & times as well as details about what topics each session will cover.
The Knox County Commissioners and the City of Mount Vernon have created the Facade Improvement Grant (FIG) program. It aims to stimulate business development by promoting permanent commercial/industrial building improvements around Knox County. The program offers an (up to) $20,000 match for eligible projects.
Information regarding project eligibility, funding amount, the application process, and all other details can be found in this link: Facade Improvement Grant Description Link
To see the scoring rubric for applications, follow this link: Application Scoring Sheet Link
Follow this link to access the application: Facade Improvement Grant APPLICATION Link
Please read the Description and Application Scoring Sheet before applying. 
If approved, funds will be distributed after the completion of a project in the form of a refund.
To apply, print the application, fill out all fields, and deliver the application form to the ADF. You can mail the completed application to:
Area Development Foundation – PO Box 29, Mount Vernon, OH 43050
Or, you can bring the application to the ADF office. There is a dropbox by the main door that applications can safely be left in. The office address is:
507 W. High St., Mount Vernon, OH 43050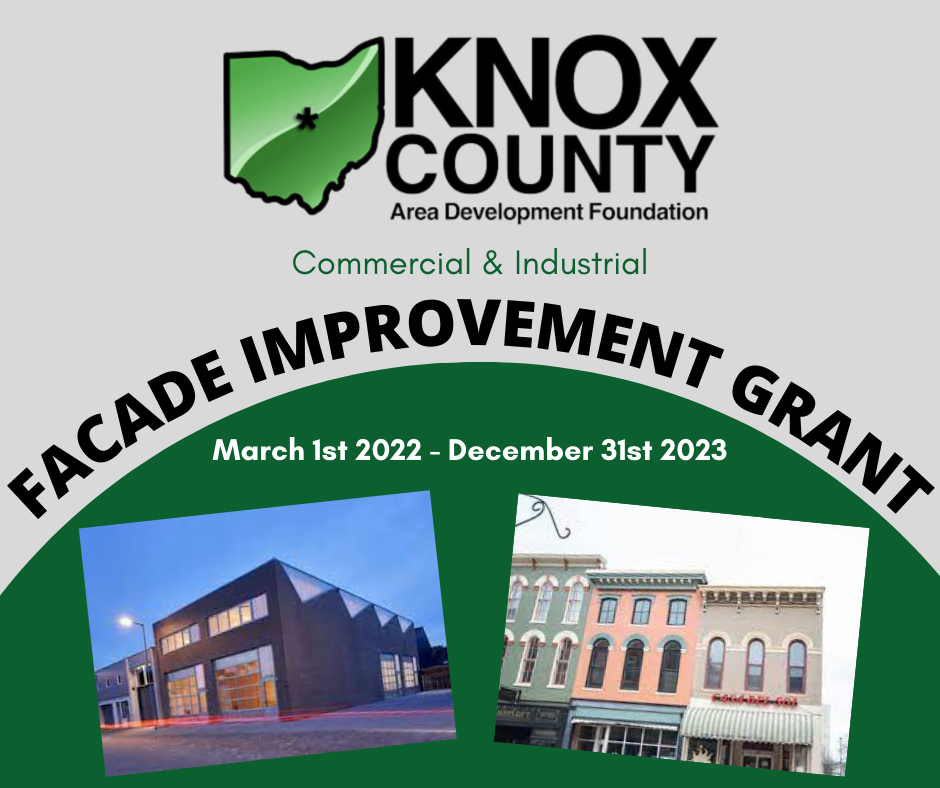 Our community offers a rural lifestyle and connects with the Columbus metropolitan area – plus we have some of the finest landscape views in Ohio!
The Area Development Foundation's understanding of Knox County's high-quality workforce, shovel-ready commercial & industrial properties, and sophisticated economic development deal-making will impress you.
Since 1957, the Area Development Foundation has helped develop commercial real estate in Knox County.  We help market commercial and industrial properties including high-quality "shovel-ready sites" for immediate development by industrial end-users.
In October 2017, the Knox County Land Bank was created, with the Foundation providing operations support and management over its activities.
The Area Development Foundation is Knox County's economic developer.  We are the local go-to source for financial incentives deal-structuring and available property.
Communities in Knox County bring to the table the entire toolbox of economic development incentives & financing options